Alumni Newsletter, Edition No. 1
Welcome to the Government of Canada Scholars' Alumni Association (GCSAA) newsletter. This publication is for former award recipients of Global Affairs Canada's International Scholarships Program (ISP). It provides information on Canada, Canadian higher education and industry; features alumni-related activities; and highlights the academic and professional achievements of ISP alumni.
Did You Know? Interesting Facts about Canada
Canada is one of the biggest producers of video games in the world.1
Canada is home to more than 400 aerospace firms employing nearly 80 000 skilled professionals.2
Canada, with its large landmass and diversified geography, has substantial renewable resources that can be used to produce energy; these resources include moving water, wind, biomass, solar, geothermal, and ocean energy.3
Spotlight on Local Alumni Associations
Once international scholars have completed their studies or research in Canada, they often become true ambassadors of Canadian education in their home countries and share their experiences with their peers. The same applies to Canadian scholars who complete studies or research abroad – they often promote their academic experiences abroad to their Canadian peers and encourage them to undertake similar experiences.
Increasingly, alumni establish official networks in their home country to share relatable experiences and to work together to transfer their knowledge to others. The Alumni Canada Brasil (Portuguese only) and the Canada Alumni Network in Mexico (CANIM) (Spanish only) are examples of local alumni networks in the Americas. They have developed a number of initiatives to share their knowledge and experiences about Canada and Canadian higher education and to foster academic and professional ties with Canada.
The GCSAA encourages you to join local alumni associations and to take part in their activities. If you have established an alumni association in your country or if you have set up any creative initiatives to share your study or research experience with others, please contact us. The GCSAA is interested in connecting with local alumni associations, supporting them in finding new members where appropriate, and featuring stories about alumni networks.
Success Stories: Q&A Interview with Dr. Odair Almeida, a Leading Alumnus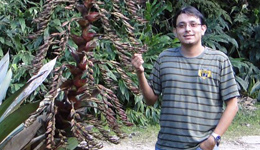 Dr. Odair José Garcia de Almeida from Brazil is a former Emerging Leaders in the Americas Program (ELAP) 2012 scholarship recipient at the University of Saskatchewan, Saskatoon, Saskatchewan. Dr. Almeida is currently residing in São Vicente, Brazil where he has landed the job he loves.
Q. What is your current occupation and what are your key areas of responsibility in this position?
A. I am an Assistant Professor of Biology at the Coastal Campus of the Universidade Estadual Paulista (UNESP) in São Vicente, in the state of São Paulo in Brazil. I am responsible for undergraduate courses in the disciplines of Plant Morphology and Plant Systematics, within the Biological Sciences program, and for graduate courses in the discipline of Floral Morphology and Biology, within the Aquatic Biodiversity program. I am also overseeing the Plant Morphology laboratory and serve on commissions and councils at the university.
Q. How did your experience in Canada as a scholarship recipient contribute to your career and to attaining this important position?
A. I added my experience as an ELAP scholarship recipient to my curriculum vitae, which contributed to improving my experiences. That was a decisive factor during my job interview. In addition, I keep a very good relationship with my colleagues from the University of Saskatchewan, with whom I have been working in partnership since the scholarship exchange. I still collaborate with my former supervisor in the discipline of Floral Morphology and Biology and he visits UNESP regularly. I am also pleased to share information on ELAP with the students that I supervise.
Would you like to be featured in our next newsletter? Do you have any academic or professional accomplishments to share? Please contact us.
Featured Academic or Industry Events
The GCSAA is pleased to share upcoming events in Canada which may be of interest to you and your networks. In this issue, you will find links to three industry events taking place in Canada in the fall of 2016.
Montreal International Game Summit (MIGS16)
November 13-15, 2016 – Montreal, Quebec –

Palais des congrès de Montréal


Type of event: technical conference for game industry professionals
Event organizer: Montreal International Game Summit (MIGS)
2016 Canadian Aerospace Summit
November 15-16, 2016 – Ottawa, Ontario – Shaw Centre
Type of event: summit for aerospace industry professionals
Event organizer: Aerospace Industries Association of Canada (AIAC)
Solar Canada 2016 Conference & Exposition
December 5-6, 2016 – Toronto, Ontario – Metro Toronto Convention Centre
Type of event: conference and trade show for solar energy industry professionals
Event organizer: The Canadian Solar Industries Association (CanSIA) and Deutsche Messe
Would you like to receive information on events in a specific industry or field of research? Are you organizing or participating in an event in Canada that could be featured in this newsletter? Please contact us.
Connecting with the GCSAA
The GCSAA would be pleased to hear from you and share your stories with others. We would particularly like to learn about:
Any information that you would like in future newsletters;
Any local alumni associations or networking initiatives;
Any academic accomplishment, professional achievement or success story;
Any academic or industry event that you are organizing or taking part in Canada; and
Any academic funding opportunities that you would like to learn about or recommend.
Do not hesitate to contact us for any questions or comments.
The GCSAA encourages you to visit the International Scholarships news room and to subscribe to the International Scholarships RSS feed to stay abreast of scholarship and fellowship opportunities.
October 2016
---
1Entertainment Software Association of Canada, "Playing for the Future – The Critical Role of Skills for Canada's Video Game Industry", March 2016, theesa.ca/wp-content/uploads/2016/03/DawsonStratESACReportEnglish-Final.2.pdf
2Innovation, Science and Economic Development Canada, "Aerospace in Canada", August 14, 2014, ic.gc.ca/eic/site/ad-ad.nsf/eng/ad03909.html
3Natural Resources Canada, "About Renewable Energy", June 29, 2016, nrcan.gc.ca/energy/renewable-electricity/7295
Date Modified: