Alumni Newsletter, Edition No. 3
This newsletter has a particular focus on science and innovation, which are key priorities for Canada. By investing in science and innovation, the Government of Canada shows its strong commitment to increasing the productivity of Canadians and enhancing growth and prosperity for all. The country, including its educational institutions and research institutes, also collaborates on science on a global scale. Together, Canadian researchers and their international colleagues are working on solutions to complex challenges facing nations around the world. This newsletter provides Canadian and international alumni with many different ways to stay connected to the field of science in Canada and to the country as a whole.
Spotlight on the Perimeter Institute for Theoretical Physics
Interested in learning about a cutting-edge research centre in Canada? The Perimeter Institute for Theoretical Physics (Perimeter Institute) is an independent theoretical physics research centre located in Waterloo, Ontario. In addition to conducting foundational research in theoretical physics, this innovative institute provides training opportunities and shares fascinating science-related information with the world. Through public events and social media, the institute interacts with broad audiences to raise scientific literacy in Canada and around the world. For example, you can learn physics facts about lasers or discover Canadian innovations in the field of physics.
The Perimeter Institute also collaborates with leading international institutions in the area of theoretical physics, including institutes in Brazil and India. These collaborations can result in successful discoveries. As an example, a Brazilian-Canadian-French collaboration led in the recent past to the discovery of a powerful solution for string interactions and the researchers are now pursuing further research in string theory. For information on international collaborations, visit the Partnerships section of the Perimeter Institute.
In terms of training opportunities, the institute offers a Master's program in theoretical physics, a PhD program that leads to a degree from a partner university, a Visiting Graduate Fellows program and research projects for undergraduate students. To learn more about these opportunities, consult the Training section of the Perimeter Institute.
To stay connected to science in Canada, particularly to the field of physics, follow the institute's captivating social media accounts: Twitter, Facebook, YouTube and Google+. The institute publishes a monthly series, Slice of PI, which allows you to share fun science facts through your social media accounts.1
Updates from local alumni associations
This newsletter has featured information on local alumni associations that maintain ties with Canada and Canadian higher education. These associations offer a number of interesting activities and key resources to their members. We recently connected with three associations, the Alumni Canada Brasil, the Association Haïtienne des Anciens Boursiers du Canada and the Canada Alumni Network in Mexico, to receive updates on their latest activities and initiatives.
The Alumni Canada Brasil was created in 2012 and is celebrating its 5-year anniversary this year. In a span of five years, the network has grown rapidly and now counts approximately 2,000 members on Facebook. It has issued useful resources, including a guide for the Emerging Leaders in the Americas Program (ELAP) (Portuguese only) and a guide for the Mitacs Globalink program (Portuguese only), and has established a successful mentoring program, named the Alumni Mentorship Program (Portuguese only). The Alumni Canada Brasil is celebrating its anniversary together with its supporters, including the Consulate General of Canada in São Paulo, Brazil and alumni members both present and future.
The Association Haïtienne des Anciens Boursiers du Canada (AHABCA) is working on an integration plan for new Haitian students who are starting their studies in Quebec City in the fall of 2017. Furthermore, the association is concerned by the challenges facing migrant Haitians in North America. It is considering organizing a conference this year in Canada on the issue of Haitian migration. The association would like to discuss the topic with members of the Haitian parliament, including members of the executive branch, as well as Haitian and international researchers with expertise in the area. At the conclusion of the event, the association plans to present a document that would include proposed measures to enhance the well-being of Haitians in Haiti. Lastly, the AHABCA recently organized a conference on the question of "Can we speak of science in Creole languages?" (French only), which was part of a series of events highlighting the linguistic and cultural heritage of Creole societies.
The Canada Alumni Network in Mexico (CANIM) has recently become a member of the Canadian Chamber of Commerce in Mexico (CANCHAM). This new initiative, which resulted from joint efforts between CANCHAM executives and the CANIM Committee, is expected to have a positive impact on CANIM members. They will have opportunities to establish links with Canadian companies and to actively contribute to the recently created Human Capital and Innovation Committee. CANIM is delighted to have formalized its partnership with CANCHAM and to share this news with its community.
Q&A interview with a promising microbiologist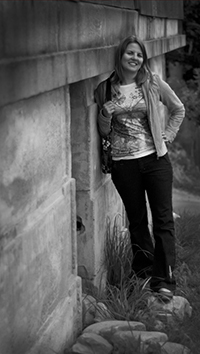 Meet Amber Paulson from Canada:
Scholarship recipient of the Commonwealth Scholarship Fellowship Plan (CSFP) - New Zealand in 2016-2017;
Successfully conducted PhD research in molecular microbiology at AgResearch Limited in Lincoln, New Zealand in conjunction with the New Zealand Institute of Advanced Study of the Albany Campus of Massey University; and
Was granted a scholarship renewal to continue her doctoral studies in New Zealand until 2019.
We caught up with Ms. Paulson to learn more about her experience on the Commonwealth Scholarship Fellowship Plan (CSFP) - New Zealand and its impact on her academic journey.
Q. What type of research or studies are you currently undertaking as a scholar in New Zealand?
A. My research is focused on the novel insect-killing bacteria, Yersinia entomophaga (Y. entomophaga), which is currently under development as a biopesticide against agricultural insect pests that cause significant economic losses for New Zealand each year. Using an "in vivo transcriptomics" approach, I am able to investigate all of the genes being expressed by this pathogen during the course of infection, which provides unprecedented insights into the strategies used by Y. entomophaga to invade and overcome its host's immune defences. I am also using a variety of molecular microbiology techniques to further explore the function and localization of virulence genes of interest.
Q. Can you please provide any examples of key accomplishments or any highlights from your participation in the scholarship program?
A. Currently, capturing pathogenic bacterial gene expression from within host tissues presents a number of logistical and technical challenges, insomuch that the few available methods require highly specialized equipment and generally impractical protocols. I have developed a new in vivo transcriptomics method, which is comparatively simpler, more efficient and can be used to study either insect or human bacterial pathogens.
I have presented my in vivo transcriptome method at the New Zealand Microbiological Society Annual Conference (NZMS) in 2016 in Christchurch, New Zealand. I also have been invited to give a presentation at the annual Entomological Society of America Conference in Denver, Colorado and a follow-up presentation at the NZMS conference in Auckland, New Zealand later this year. I hope to publish these results in a high-impact scientific journal in the near future.
Q. How is your experience abroad as a scholarship recipient contributing to your academic path or academic goals in a science-related field?
A. My experience abroad as a scholarship recipient has contributed immensely to my academic goals as a microbiologist. Since the cultivation of genetically modified organism (GMO) crops is not allowed in New Zealand, there is quite an active research community involved in the development of new and effective natural biological controls, including microorganisms. As I am conducting my research at a New Zealand Crown Research Institute, I have had the chance to work with and learn from researchers with extensive experience in the study of insect pathogenic microorganisms, with a focus on the development of effective biopesticides. Through these amazing work experiences I am gaining specialized skills, which will help me to develop my career as a microbiologist working on microbial pathogens of agricultural pest insects. My research experience in New Zealand has been very unique and I appreciate the opportunity to gain such incredible knowledge and skills, in a field that is rapidly growing in light of increasing pressure on global agricultural and forestry management systems.
Q. Do you intend to pursue postdoctoral studies after your scholarship has ended, either abroad or in Canada?
A. I hope to return Canada to pursue postdoctoral studies or employment as a research scientist once my PhD program is completed. I would like to continue to focus on studying microorganisms that infect or form symbiotic associations with insects and the development of effective biological control agents.
Q. Would you encourage Canadian students to undertake study abroad opportunities?
A. I would encourage students to explore research opportunities abroad, especially if an amazing project becomes available, which would inspire your research as well as provide excellent opportunities to gain hands-on experience from researchers who are considered global leaders in their respective fields. There are many funding opportunities to support post-graduate study abroad, including from the Canadian government (for example, the Tri-Council Agencies) as well as the Commonwealth Scholarship Fellowship Plan and other scholarships or stipends from international academic and/or government research institutes.
Featured academic and industry events
Check out these academic/industry events taking place in Canada in the fall of 2017.
Gender Summit 11 – North America
November 6-8, 2017 – Montreal, Quebec – Le Centre Sheraton Montreal Hotel
Type of event: summit for advocates of gender equality from science, innovation and development
Event organizers: Natural Sciences and Engineering Research Council of Canada,

Fonds de recherche du Quebec

and Portia Ltd UK
Artificial Intelligence World Forum
November 27-28, 2017 – Toronto, Ontario – The Carlu
Type of event: conference for global thought leaders in artificial intelligence and machine learning
Event organizer: Digital Finance Institute
International Arctic Change 2017 Conference
December 11-15, 2017 – Quebec City, Quebec – Quebec City Convention Centre
Type of event: conference for international arctic researchers, stakeholders and decision-makers
Event organizer: ArcticNet
Stay connected with Canada
Did you complete a study or research stay in Canada many years ago and want to reconnect with Canada? Or did you recently return from your exchange in Canada and are already missing the experience? Below are some suggestions to help you stay connected to Canada from where you are.
Are you looking to return to Canada to pursue further studies or research? If so, you may be interested in the links below:
Contact us

The Government of Canada Scholars' Alumni Association (GCSAA) would be pleased to hear from you and share your success stories with others in our newsletter. Do not hesitate to contact us for any questions.
October 2017
---
1Perimeter Institute of Theoretical Physics, perimeterinstitute.ca
Date Modified: