Highlights from two key events of the Emerging Leaders in the Americas Program
July 5, 2018 – The Emerging Leaders in the Americas Program (ELAP) is a Global Affairs Canada scholarship program that provides students from Latin America and the Caribbean with short-term exchange opportunities for study or research at the college, undergraduate and graduate levels in Canada. Under ELAP, Global Affairs Canada funds two signature events each year: a collaboration mission and a study tour.
The ELAP Collaboration mission is an opportunity for post-secondary institution representatives, from the Caribbean and Latin America, to participate in a mission to Canada to create partnerships with Canadian institutions that lead to increased bilateral student mobility and joint research projects. The ELAP Study tour provides a group of select graduate students with the opportunity to attend a one-week tour in Ottawa on key priority areas.
2017 ELAP Collaboration mission
A delegation of 17 senior officials, from 13 Latin American and Caribbean countries, participated in the 10th edition of the ELAP Collaboration mission. The 2017 Mission focused on the use of new technology in support of the environment. As a result of this Mission, 5 institutional collaboration and student exchange agreements have been signed, 9 are currently being negotiated and another 30 are being explored.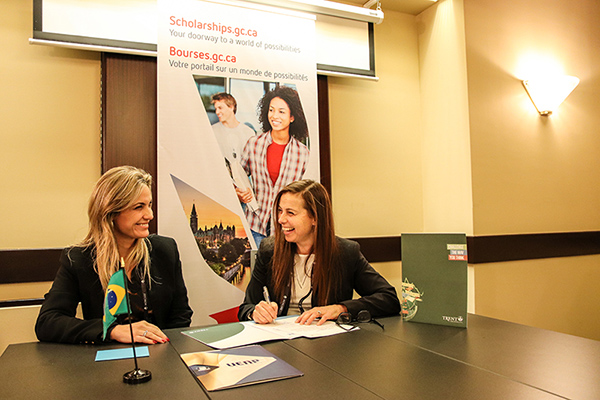 2017 ELAP Study tour
A group of 32 ELAP graduate scholarship recipients, from 13 Latin American and Caribbean countries, took part in the 2017 ELAP Study tour. The Tour covered three priority themes: Canada's System of Democracy and Accountable Governance; Human Rights, Indigenous rights, and Diversity and; Science, Technology and the Environment.
The students visited the Bayview Yards, Invest Ottawa, the House of Commons, the Supreme Court of Canada, Global Affairs Canada, the Museum of Science and Technology, the National Gallery of Canada and the Canadian Museum of History. They attended presentations about Canada's relation to the Americas, the Canadian model of immigrant integration and human rights, green and sustainable architecture, economic development, innovation and entrepreneurship, youth engagement and Indigenous rights and history. Participants also met with senior officials from the federal government and non-profit organizations, and diplomatic representatives of their home countries in Canada.
Related content
Date Modified: