Scholarships in China for Canadian academics, students and professionals
November 29, 2018 – Global Affairs Canada and the Chinese Ministry of Education are offering short-term scholarships to Canadians wishing to study abroad in China. Scholarships are awarded for studies, research, language studies or a combination of studies and language studies at participating Chinese institutions.
Program name: Canada-China Scholars' Exchange Program
Funding organizations: Global Affairs Canada and the Ministry of Education of the People's Republic of China
Target audiences: Canadian students (college, undergraduate and graduate levels in Canada); Canadian faculty members and research staff at a post-secondary institution in Canada; Canadian mid-career professionals
Number of scholarships: Over 20
Duration: 4 to 12 months for students; and 8 weeks to 12 months for faculty members and mid-career professionals
Inclusions: Airfare, tuition fees, monthly living stipend, on-campus accommodation and medical insurance
Deadline: March 1, 2019
For full program details and to submit an online application, visit: Canada-China Scholars' Exchange Program.
Alumni testimonials
Laurent de Serres Berard, 2017-2018 awardee
"It was a holistic experience, and the realization of the experience and knowledge I gained only grows each time I look back on it. This is a unique opportunity that needs to be grasped, that shapes your future, and can give you experiences that will inspire you for many years."
Zachary Macdonald, 2017-2018 awardee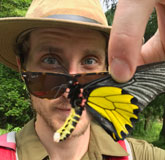 "Over my five-month visit, we successfully established a long-term study that will contribute to our collective goal of documenting and understanding the complexity of Earth's biodiversity... I get shivers writing about the experience even now, months later."
Date Modified: