650 scholarships in Canada for Latin American and Caribbean citizens
February 5, 2020 – Global Affairs Canada launches its 2020-2021 Student Exchange Programs for Latin American and Caribbean citizens wishing to study, conduct research or undertake professional development in Canada.
The 650 short-term exchange scholarships being offered will promote partnerships, student mobility and research collaborations between Canadian and Latin American and Caribbean post-secondary institutions.
Canadian post-secondary institutions can now submit scholarship applications on behalf of students, faculty and international liaison officers/managers from eligible countries by March 30, 2020 (Deadline extended: April 20, 2020). Only applications submitted directly by Canadian post-secondary institutions will be considered.
Interested candidates are invited to contact their home institution's international office to learn about institutional partnerships and collaborations with Canadian institutions. Home institutions in Latin America and the Caribbean will then provide the eligible candidates' documentation to the Canadian post-secondary institutions.
For full program and application details, visit each scholarship program's guidelines page.
Scholarships available
Alumni testimonials
Salma Selem Najm, 2019 awardee
"To visit and to learn in a new country were amazing opportunities that left me feeling more competitive and prepared as a student… My Canadian memories and adventures will be in my heart forever."
Cristina Mariana Jacobi, 2019 awardee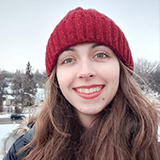 "At first, I was a little afraid to go to a new country alone, but now I feel prepared to do anything. All I can say is that if you have the opportunity to do an exchange in Canada, go! It will be incredible."
Video
Scholarship recipients of the Emerging Leaders in the Americas Program explain why you should participate in an academic exchange with Canada.
Note: You may need to click on the CC for Closed Captioning.
Date Modified: