Testimonial: Alma Quintero
Education Outreach Officer, Embassy of Canada in Mexico and Director, Public Affairs, Canada Alumni Network in Mexico (CANIM) - Emerging Leaders in the Americas Program (ELAP) Awardee (2011)
Trent University (International Development Studies, BA)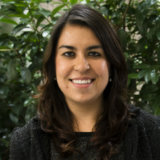 Being part of the Emerging Leaders in the Americas Program not only gave me the opportunity to study in Canada but also opened my eyes to new horizons and career possibilities. As a student in International Development Studies, I had the chance to learn from recognized faculty members as well as from my classmates, who came from many different countries. This made the classroom the perfect forum to discuss international issues from diverse perspectives and first-hand experiences.
Although it was my first time living abroad, I felt welcomed and safe from my very first minute in Canada. I always felt part of the multicultural and friendly Canadian society. It was easy to get used to a new lifestyle and make friends to explore Canadian landscapes with.
Back in my home country, I feel more prepared and competitive for the labour market thanks to my improved English skills and international experience highly valued by employers. Furthermore, I have the chance to be part of the Canada Alumni Network in Mexico to share my experience with other alumni and to help new students who want to have the experience of studying in Canada.
Date Modified: