Testimonial: Anuschka Tjin Liep Shie from Suriname
Emerging Leaders of the Americas Program (ELAP) Awardee (2016)
College of New Caledonia (Social Sciences, BA)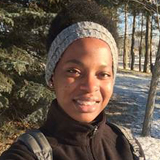 I undertook an exchange program at the College of New Caledonia (CNC) in Prince George, British Columbia, in the fall of 2016, under the Emerging Leaders in the Americas Program (ELAP). I had always been interested in Psychology and was impressed by the courses that the college offered in this field. I also knew that I wanted to study in Canada because of its high academic standards.
During my exchange, I was pleased with the small class sizes at the college. The professors were incredible and approachable. At the beginning, it was a challenge to study in a new language because I am from the Dutch-speaking country Suriname but I was able to adapt quickly. I successfully passed all my midterms and final exams. I also loved to interact with the diverse student population during my courses.
I lived at the student residence on campus, where I had the opportunity to meet students from different parts of the world and where I felt safe. I joined the CNC Hiking Club and experienced snow for the first time in my life. It was amazing. Also, I went to my first hockey game at CN Centre in Prince George. I was one of the students from CNC who held the Canadian flag before the game started. This was a wonderful experience for me. It was the first time that I heard the national anthem "O Canada" live.
I am so grateful that I was able to experience a different environment and that I met wonderful people and made friends from across the world. For the first time in my life, I lived on my own and learned more about myself. Because of this experience, I am well equipped to pursue other study abroad opportunities. I learned to be brave, independent and to take care of myself. I am very fortunate to have completed an ELAP exchange in Canada on both a personal and academic level.
Related content
Date Modified: