Testimonial: Cristina Mariana Jacobi
Emerging Leaders of the Americas Program (ELAP) Awardee (2019-2020)
University of Saskatchewan (Environmental Studies, PhD)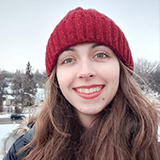 Under the Emerging Leaders in the Americas Program (ELAP), I had the opportunity to conduct part of my Masters research at the University of Saskatchewan in Saskatoon. I was able to analyze stable isotopes in my samples and learn about the use of these food web tracers in ecological studies with top researchers and high-quality facilities.
I also attended several lectures and mini courses at the university that helped me to meet people from many parts of the world and to expand my professional knowledge and network.
I experienced firsthand things that I had previously only heard of; each day was like waking up in a movie! I made a snowman, went to hockey games, roasted marshmallows on a stick, ate waffles with syrup, watched the northern lights, and explored the boreal forest. I had new adventures every day in a place where I always felt safe.
At first, I was a little afraid to go to a new country alone, but now I feel prepared to do anything. All I can say is that if you have the opportunity to do an exchange in Canada, go! It will be incredible. You will return to your country with a bag of overweight learning! I am sincerely grateful to ELAP for this personal and academic opportunity.
Related content
Date Modified: