Testimonial: Eva Liliana López
Emerging Leaders in the Americas Program Awardee (2019-2020)
University of Saskatchewan (Nutrition Sciences, BSc)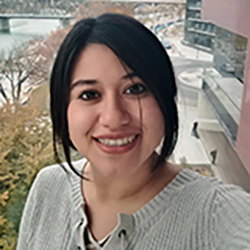 I am so pleased that the Emerging Leaders in the Americas Program (ELAP) selected me for a research exchange between the University of Saskatchewan and my home University of San Carlos de Guatemala.
My exchange experience has been excellent. The University of Saskatchewan has afforded me opportunities to learn about life and culture in the Canadian prairies as well as new methods in nutrition that will help me to work with food insecure people in Guatemala. The advanced facilities at the University of Saskatchewan gave me access to new training, tools and technologies to improve my skills, including English communication.
My home country is considered one of the most dangerous in which to be a woman. In Canada, I felt safe both on and off-campus; I now understand how a non-threatening environment improves my sense of well-being and gives me space for creative thinking. Because I live in the student residence, I enjoy the opportunity to walk everywhere on campus and appreciate the weather changing with the seasons. At the end of my day, I get to socialize with my student neighbours. This added sense of community has been a beautiful experience.
The university's International Student Centre was instrumental for me. The Centre provided activities that helped me learn about local culture and helped me feel part of both the country and the university itself. The support they offered accommodated my needs and helped to solve some problems that I had.
I have grown personally from the chance to travel to another country alone and to live independently while conducting my research. I have met people from all over the world and have made many new friends. This unforgettable experience would not have been possible for me without ELAP. Thank you to everyone who helped me along the way!
Related content
Date Modified: