Testimonial: Katherine Wang from Canada
Canada-China Scholars' Exchange Program Awardee (2019-2020)
Ocean University of China (Environmental Law)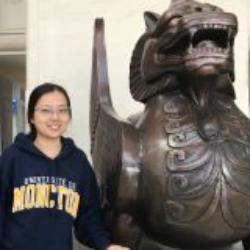 I truly appreciate the wonderful opportunity I had to attend two semesters in the Master of Environmental Law programme at the Ocean University of China, Qingdao, Shandong.
Arriving there in September 2019, what was so foreign to me quickly became my new home. I soon adapted to using WeChat, Alipay, Taobao, and Eleme for everyday needs. The most valuable part that I experienced was the chance to make so many lifelong friends from all over the world. I met international students and professors from Ethiopia, Kenya, Zimbabwe, Pakistan, Bangladesh, Italy, Germany, Ecuador, Turkey, Iran, France, Morocco, and the list goes on! We were one big international family living on campus, being there to support each other. It was such an enriching experience to hear them speak their languages, taste their cuisine, and learn about their cultures. It really reminded me about how incredibly diverse the world is, and how we are all citizens of Earth. Never had I thought that I would discover all of this in China!
By the end of January 2020, China was hit with COVID-19, and it changed our world. The school took the utmost precautions to keep us safe. Come June 2020, the situation had much improved, and we got to see the outside world again – walk into grocery stores, stroll along the sidewalks, or take the subway to the sandy beaches. Alas, I knew my time in China was ending and I had to say my goodbyes. Thanks to the unwavering support from Global Affairs Canada, I was able to return back home safe and sound. What an experience of a lifetime!
Related content
Date Modified: