Testimonial: Nattharuedee Phromnawet from Thailand
Canada-ASEAN Scholarships and Educational Exchanges for Development Awardee (2018-2019)
University of Victoria (Law and Legal Studies, B.A.)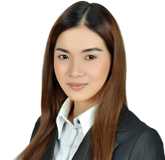 I am eternally grateful for being selected as a Canada-ASEAN Scholarships and Educational Exchanges for Development (SEED) recipient. I am thankful that this scholarship provides such a valuable opportunity for students in developing countries, like myself, to pursue higher education in Canada's world-class educational system.
I am currently an exchange student in the Faculty of Law at the University of Victoria for the 2018-2019 academic year. The Faculty of Law at the University of Victoria delivers outstanding academic programs, combined with numerous hands-on learning opportunities outside the classroom. As a law student, I attend lots of lectures and seminars that allow me to explore a diversity of legal perspectives and ethical views. It is very enlightening to discuss and witness social issues outside of my realm of familiarity. I am deeply impressed by the commitment of the University of Victoria and the Canadian educational system in general which collectively work to encourage community engagement, support community development, and improve the quality of people's lives and natural resources, both throughout Canada and other regions in the world. During my time at the university, I sometimes faced difficulties, such as learning in English (my second language) and adjusting to Western culture and society; however, the people I have met at the university are very caring and supportive, and have helped me throughout the program.
Canada is well-known for its stunning natural attractions and outdoor activities, and I have taken advantage of opportunities to explore the many beautiful places on Vancouver Island and elsewhere in Western Canada. Living in Canada gives me a true appreciation for the natural world as it is a part of our lives every day. Moreover, I enjoy living in the multicultural community where I am respected and can, in turn, respectfully learn from the different cultures I encounter.
This experience has inspired me to become more selfless and to help other people. I hope that, one day, I will be able to give back to my own community as well as to the global community at large. I am confident that when I look back at this experience, I will consider it one of the greatest opportunities in my life that taught me to grow professionally and personally. I hope the Canadian government will continue to support scholarship and educational exchange programs like SEED so others can be granted the same opportunity I was so fortunate to have.
Related content
Date Modified: