Testimonial: Phylicia Ricketts from Jamaica
Canada-CARICOM Leadership Scholarships Program Awardee (2015)
McGill University (Applied Physics, PhD)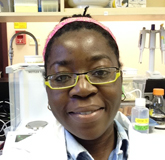 I attended McGill University as a Graduate Research Trainee, under the Canada-CARICOM Leadership Scholarships Program. The training provided me with hands-on experience in using new technologies and equipment. I gained insights and innovative perspectives on many different research topics in Environmental Health and Nutrition. I achieved my ultimate goal, which was to collaborate with prestigious researchers to produce a publication in a scientific journal.
At McGill University, I conducted a research project on the assessment of fish consumption and mercury exposure among pregnant women in the Caribbean. The Canada-CARICOM Leadership Scholarships Program opportunity has tremendously enhanced my academic and professional network. I was swiftly connected to experts who have assisted me in developing my academic career.
I would encourage anyone to study in Canada. Montreal is a wonderful city to experience French-Canadian culture. Also, interestingly, each graduate student from the research laboratory represented a different country! The diversity in culture is definitely a life-changing experience.
Date Modified: