Study STEM in Eastern Canada
Find a science, technology, engineering and mathematics (STEM) program in Eastern Canada! Four provinces located on the country's Eastern coastline make up Atlantic Canada: New Brunswick, Newfoundland & Labrador, Nova Scotia and Prince Edward Island. Their quality institutions are some of the oldest in Canada. The area is also home to supportive campus communities with smaller class sizes. International students enjoy the beautiful landscapes, ocean views and welcoming maritime culture they find on the East Coast.
Opportunities to stay and build your career
Once you join your community in Eastern Canada, you may never want to leave. The region's economy is growing and there are many programs that can help you stay to work after graduation. Motivated international students can also take advantage of provincial Study and Stay programs to get connected to career, mentorship, networking and entrepreneurship opportunities:
Institutions in Eastern Canada
Learn more about STEM programs at institutions in Eastern Canada:
New Brunswick
Bordering Quebec, Nova Scotia and Maine, New Brunswick is Canada's only officially bilingual province (English and French). In New Brunswick, you can settle in beautiful and affordable communities and take advantage of the growing tech, forestry and agricultural sectors.
Find STEM programs:
Nova Scotia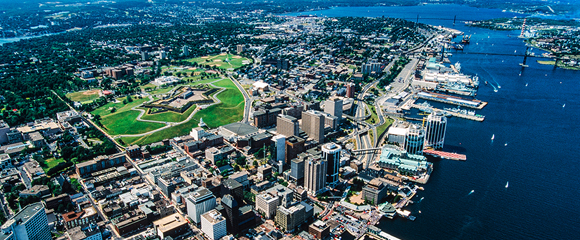 No matter where you are in Nova Scotia, you're never far from the ocean. With both urban and rural amenities, vast outdoor adventures and a growing tech and innovation sector, Nova Scotia is a popular destination for international students.
Find STEM programs:
Newfoundland & Labrador
Located on the most eastern edge of North America, Newfoundland and Labrador is one of the safest and most welcoming places in the world to live and work. The province is home to a cluster of world-class educational institutions, companies, and industry organizations offering some of the most innovative ocean technologies.
Find STEM programs:
Prince Edward Island
PEI is known for its vivid colours, sandy beaches and red sandstone cliffs. Traditionally known for agricultural sectors, PEI is one of the most cost-effective locations in North America for software development, specialty chemical production, and bio-science research.
Featured Video
From The Philippines and Dubai to Canada - Why I chose to study abroad in Canada
Mary, a Chemical Engineering student who was raised in Dubai speaks about her experience studying at Dalhousie University in Halifax, Nova Scotia. She talks about how the experience has given her the confidence to pursue her dreams.