Graduate studies in Canada
Transform your future with a graduate degree from a Canadian university. With a global reputation for education and research excellence, Canada is the ideal choice for your master's degree, PhD or doctoral studies.
Canada is a global leader in research and innovation
Canadian universities conduct research at one of the world's highest rates. Canada's thriving research culture exceeds the G7 average in terms of impact in the fields of clinical medicine; biology; information and communication technologies; agriculture; fisheries and forestry; earth and environmental sciences; economics; and business.
To put it into context, Canadian universities conducted CAD 14.3 billion in research and development (R&D), representing 40% of the total 2017 Canadian R&D (Statistics Canada, Spending on Research and Development, 2020).
Canadians have a long, proud history of developing innovations that have changed the world, including the electric wheelchair, Canadarm space technology, IMAX film, Java programming language and wireless radio transmission.
We also have a long list of medical and scientific breakthroughs. Among them: insulin, the pacemaker, the HAART therapy treatment as HIV prevention, open heart surgery and transplantable stem cells. More recently, a Canadian PhD student made a groundbreaking cancer discovery at Queen's University. Caitlin Miron discovered a chemical compound (DNA binder) that could 'switch off' cancers cells and prevent them from spreading (Global News, Canadian PhD student makes groundbreaking cancer discovery, 2017).
Why not add your name to the list? Our teaching and research programs offer endless possibilities for you to work with world-leading researchers in cutting-edge research laboratories.
Graduate program options
In virtually every field of academic study, Canadian universities offer graduate degree programs.
Master's degrees require 1 or 2 years of study after completing your bachelor's degree. In Canada, your master's studies can include a thesis, practicum, research paper or a course‑based program.
PhD and doctoral degrees involve 3 to 5 years of study, including a thesis. This usually is pursued after completing your master's degree. Your PhD path will include a dissertation that you prepare based on extensive and original research in your field.
Canadian institutions offer both in-person master's degrees and PhD programs as well as online or distance education options.
Cost of graduate studies in Canada
Your graduate studies are a smart career investment. Canada's master's and PhD programs are recognized around the globe, and our relatively lower cost of living makes the opportunity even more appealing to international students like you. Even Canada's larger cities are more affordable than many cities around the world.
Graduate tuition fees in Canada can vary depending on the program and location you choose.
Scholarships to study in Canada
You may be eligible for a scholarship, fellowship or grant to complete your postgraduate studies in Canada. The Government of Canada, our provinces and territories and many educational institutions offer funding for international students.
Admission requirements and credits
Each university in Canada has its own admission requirements. To learn out about admission requirements for the program you want to pursue, visit the website of the university you would like to attend. Contact the university directly to determine whether your existing credits can be applied toward that program.
To study at a Canadian university, you must provide proof of your English or French language capabilities, depending on the language you choose for your studies.
Keep exploring
Explore the 5 key steps to follow to get ready to make Canada your study destination.
Canada's education system is flexible. Discover all the paths you can take to achieve your goals.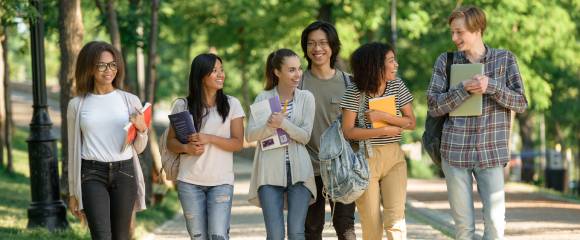 Discover the many reasons why international students choose to study in Canada.