Colleges and vocational schools in Canada
By choosing to study at a Canadian college or vocational school, you're choosing a career-oriented experience that's in tune with the changing global market. Come study in Canada and you'll gain world-class experience, complete with endless opportunities to advance your knowledge and your skills.
Practical learning for the real world
Do you love the idea of gaining valuable work experience while you study? Our colleges and vocational schools offer countless ways for you to do so. Each works closely with business and industry to design programs that offer hands-on training and teach the skills employers are seeking. You can also take part in internships, co-operative programs and work placements that'll get you real-world experience while you're studying.
By attending a Canadian college, you can earn a certificate, diploma or post-graduate diploma. You can also take university transfer programs, apprenticeship programs, or complete academic and applied degrees.
Did you know?
More and more college students have university degrees. They come to college for practical learning that gives them concrete skills and leads to meaningful work.
Programs to suit your needs
Are you interested in nanotechnology? Web design? Social work? Nursing? Whatever your passion, we have the programs. Choose from more than 10,000 programs at 127 publicly funded colleges, institutes and polytechnics across Canada. They offer a full range of study options in the technical and professional fields, including:
Agriculture and agri-food
Broadcasting and journalism
Business
Dental hygiene
Design
Engineering technology
Environment
Health
Hospitality management
Information and communications technology
Languages and arts
Sciences
Social services
Canadian college programs are offered on a full-time or part-time basis, both in-person and online via distance education. Programs vary in length from a few months to 4 years. When you study in Canada, you can also complete your studies in English or French. The choice is yours.
Applied research that supports innovation
If you have an entrepreneur's mind, Canada is the place to be. As a college student in Canada, you have access to research labs, business centres and entrepreneurship accelerators to grow your business ideas. You'll also receive mentorship and coaching support, so you can find financing to pitch investors.
Our colleges, institutes and polytechnics work with small and medium-sized enterprises to create, refine or adapt products, including services, technologies and processes. All of this opens doors to practical work experience and opportunities for your future.
Fast fact:
Canadian colleges have more than 400 specialized research centres, laboratories and Technology Access Centres that give students access to sophisticated technology, equipment, mentorship and expertise.
Cost of college and vocational school in Canada
College programs vary in length, so they are often less expensive than university studies. Some programs include work-integrated learning, which may earn you an income while you are in Canada.
You'll find high-quality colleges and vocational schools throughout Canada, including smaller cities and towns where the cost of living is lower. Even Canada's larger cities are relatively more affordable than many cities around the world.
Tuition fees for international students in Canada vary depending on the program and location you choose.
Scholarships to study in Canada
You may be eligible for a scholarship, fellowship or grant to study in Canada. The Government of Canada, our provinces and territories and many educational institutions offer funding for international students.
Admission requirements
Each college and vocational school in Canada has its own admission requirements.
To learn out about admission requirements for the program you want to pursue, visit the websites of the colleges you are interested in attending.
To study at a Canadian college, you must provide proof of your English or French language capabilities, depending on the language you choose for your studies.
Learn more
Keep exploring
Explore the 5 key steps to follow to get ready to make Canada your study destination.
Canada's education system is flexible. Discover all the paths you can take to achieve your goals.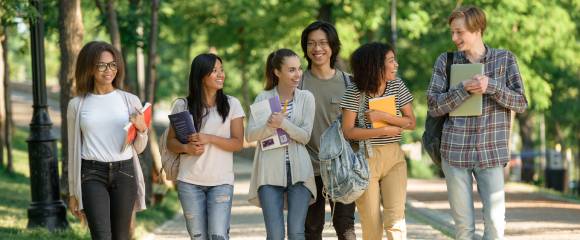 Discover the many reasons why international students choose to study in Canada.