Language schools in Canada
Canada's language schools are the best places to study English or French and to immerse yourself in a country unlike any other in the world. After all, Canada is world renowned for the diversity of our people, our dual English and French identity, the beauty of our landscapes and our excellent academic standards.
Exacting standards for a high-quality education
Canadian language schools offer consistent standards, giving you high-quality instruction. Whether you choose to study on Canada's Atlantic Coast, the West Coast or anywhere in between, your experience will be a positive one thanks to our language school quality assurance.
Language school options and opportunities
International students have many options when it comes to learning languages in Canada. You can study English or French while working in Canada or take language courses that help prepare you to enter a Canadian university or college program. You may also want to study English or French and gain a competitive advantage in your home country.
When you come to Canada for language studies, you can expect:
A focused approach
High-quality teaching that guarantees results
To learn English or French, so you can study or live in Canada
Canada's language schools exist across the country. This means you can learn French in a place where you are living among French speakers. The same is true if you want to learn English.
Our accredited language schools
When searching for the right language school for you or your child, look for language schools accredited by Languages Canada. This accreditation means the schools follow internationally recognized quality assurance standards. Languages Canada has a directory of more than 225 language schools across Canada.
The Languages Canada accreditation is based on the:
Student services
Teaching staff
Program of study (curriculum)
Marketing, promotion and administration
Student admissions
The types of programs that language schools offer include:
Language skills are essential to enter a post-secondary program in Canada
Many language schools prepare international students to attend college or university in Canada.
You must be able to speak English or French to study at a Canadian university or college.
Educational requirements
To enroll in a language school, you'll need to take a test to assess your skill level in English or French. Based on that test, the school will suggest a course of study. Most language schools offer courses based on weeks of study, not a semester or monthly course.
How to enroll in a language school
Each language school has its own enrollment process. Some language schools offer housing, while others offer homestay experiences for younger students. This means the child or young person will live with a Canadian family.
Students 18 and over: You must apply for a study permit from the Government of Canada to attend a language school in Canada.
Minor children (under 18): If your child attends a language school in Canada, you may need to apply for a special study permit.
You may also contact the language school you plan to attend. They will be able to answer your questions about fees and study permits. It can take up to 3 months to obtain a study permit depending on your home country, so be sure to plan ahead.
Cost of language school in Canada
Language schools often provide courses based on a certain number of weeks, rather than a semester approach to study. The cost of tuition at Canadian language schools is established by each school.
Find a language program from Languages Canada.
Learn more
Keep exploring
Explore the 5 key steps to follow to get ready to make Canada your study destination.
Canada's education system is flexible. Discover all the paths you can take to achieve your goals.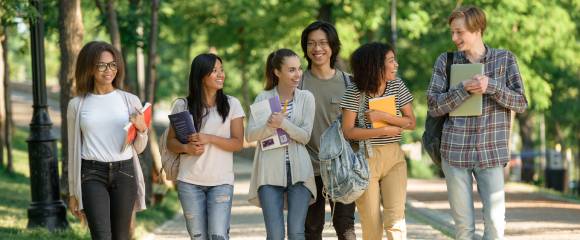 Discover the many reasons why international students choose to study in Canada.