Universities in Canada
Canada is one of the world's top destinations for a university education. Why not make it yours? After all, a degree from a Canadian university opens doors and unleashes endless possibilities.
World-class university education
It's not surprising that so many international students choose Canada for their university studies. Canada is home to 10 of the top 250 universities in the world (QS World University Rankings, 2021). Our higher learning institutions range from small universities with intimate learning environments to large research-intensive universities with world-class reputations.
What's more, our teaching faculty bring a global perspective to the classroom, 40% have at least one international degree (Statistics Canada, University and College Academic Staff System). Our graduates are recognized for their critical thinking, research as well as leadership skills across a wide range of programs.
The case for university in Canada
Canada has exceptional quality and choice: 100 public universities offer 15,000 study programs.
Our students rank top among English and French speaking countries (Organisation for Economic Co-operation and Development (OECD), Program for International Student Assessment (PISA)).
Canada has 3 of the top 20 best student cities in the world: Montreal, Vancouver and Toronto (QS Best Student Cities, 2019).
Global leader in research and innovation
Interested in research? So are we! Our universities conduct research at one of the world's highest rates. Canada's thriving research culture exceeds the G7 average in terms of impact in the fields of clinical medicine; biology; information and communication technologies; agriculture; fisheries and forestry; earth and environmental sciences; and economics and business.
Our teaching and research programs offer students opportunities to learn in cutting-edge technology and research laboratories.
Programs with endless possibilities
Canada's 100+ public and private universities offer more than 15,000 programs at all levels and covering all fields of study:
Undergraduate and postgraduate programs
Professional designations
Certificate and diploma courses
Short career-focused programs
Co-operative education and internships
University degrees in Canada provide bachelor, master and doctorate (PhD) degrees that are equivalent to those in the United States and other Commonwealth countries, such as Australia and the United Kingdom.
Come learn with us—in English or French. The choice is yours. Some universities offer programs in both official languages. You may also choose to study online or via distance education.
Cost of university in Canada
What could be better than earning a university degree in a beautiful country? Finding a reputable program that you can afford. Many quality universities are found in Canada's smaller cities and towns where the cost of living is lower. At times, Canada's larger cities are more affordable than many cities around the world.
Scholarships to study in Canada
You may be eligible for a scholarship, fellowship or grant to study in Canada. The Government of Canada, our provinces and territories and many educational institutions offer funding for international students.
Admission requirements and credits
Each university in Canada has its own requirements for admission and transferring credits from other institutions. To learn about admission requirements for the program you want to pursue, visit the website of the university you would like to attend. Contact the university directly to find out whether your existing credits can be applied toward that program.
To study at a Canadian university, you must provide proof of your English or French language capabilities, depending on the language you choose for your studies.
Keep exploring
Explore the 5 key steps to follow to get ready to make Canada your study destination.
Canada's education system is flexible. Discover all the paths you can take to achieve your goals.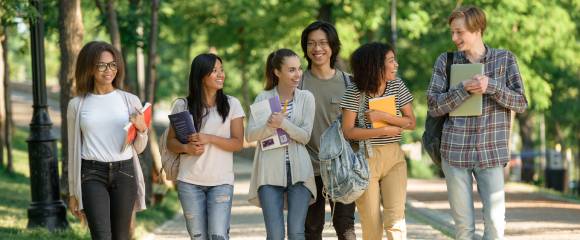 Discover the many reasons why international students choose to study in Canada.