Student stories: Canada-Vietnam
Many international students have shared their study-abroad experience with us. Hear from these graduates about what to expect and how choosing Canada benefited their lives.
Ngoc Truc Diep, Vietnam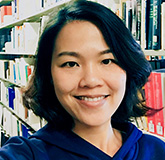 "I would like to take this opportunity to express my gratitude for being a Canada-ASEAN Scholarships and Educational Exchanges for Development (SEED) recipient. I feel so honored and fortunate to be doing my research at the Faculty of Veterinary Medicine, Université de Montréal (UdeM), Canada.
The reputable teachers, world-class facilities and multicultural society of UdeM make it a wonderful institution for study and research. Although this is a French-language university, most of the teachers and students can also communicate fluently in English. They are always nice, friendly, and eager to help me. Furthermore, I have gained a lot of hands-on experience and advanced knowledge in veterinary practice that will help me reach new heights in my career.
The aim of my research is developing an anesthesia protocol that can hopefully be applied to cats and dogs in Vietnam. This will not only help us control the animal population through spay-neuter procedures, but will also improve animal welfare by minimizing pain and discomfort. Once I have completed my study at the UdeM, I will bring the knowledge and techniques I have learned back to my country and transfer them to my colleagues. I strongly believe that we can make a difference and improve our veterinary practice in Vietnam.
Finally, I would like to thank my host family in Montreal. They are so kind, welcoming and generous. They make me feel like a member of their family. I will miss them dearly when I return back home."
Canada-ASEAN Scholarships and Educational Exchanges for Development Awardee
Animal Sciences and Veterinary Sciences PhD
Université de Montréal