Stories of international scholarship recipients who studied in Canada
Are you an international student interested in scholarships to study in Canada? Find out what recipients of Global Affairs Canada funded scholarships have to say about their experience in Canada. Read their testimonials to discover how receiving a scholarship to study or conduct research in Canada can be a life changing experience.
Africa and the Middle East
Dialeni Yonli, Burkina Faso
Study in Canada Scholarships Awardee
This was an unforgettable experience because it helped me advance my thesis research. It also made me greatly appreciate the scientific framework that Montreal Polytechnic provides for its students. Canada is a great place for quality studies in all fields. I also had the privilege of experiencing the country's diverse culture and the warm hospitality of its citizens. I have become an ambassador of Canada.
Montreal Polytechnic
Montreal, Quebec
Dago Frindey Agboko, Ivory Coast
Study in Canada Scholarships Awardee
The experience I gained during this short stay completely changed my outlook. Canada's advanced level of development in the area of industrial safety made this exchange an enriching experience for me. This is a crucial field for industrializing countries, especially the Ivory Coast. The teachers' professionalism, as well as the practical and theoretical aspects of the courses, have sparked my interest in becoming a pioneer for occupational health and safety in the industries of my country. Words cannot describe how happy I am with this exchange! I feel intellectually transformed, and my professional outlook and goals have changed considerably. Once again, I would like to thank those in charge of the Study in Canada Scholarship!
University of Quebec
Trois-Rivières, Quebec
The Americas and the Caribbean
Emerging Leaders in the Americas Awardee and ELAP Collaboration Mission delegate
Studying in Canada was a very rewarding experience for me because I was not only able to study in a new country, but I was also able to form long-lasting relationships with people from around the world. As an active member in the student community, I grew close with my fellow exchange students. I also joined the Recreation Centre staff, which further enriched my experience as a student.
Currently, I work in the department of internationalization for a local government training institution called Servicio Nacional de Aprendizaje (SENA). In November of 2020, I took part in the ELAP Collaboration Mission on behalf of SENA. At the conference, I was able to connect with Canadian institutions and further explore education opportunities for Colombians abroad.
I highly recommend pursuing international studies and research in Canada through the ELAP Program to my fellow Latin American students. It is a life-changing experience!
Mount Royal University
International Business, BSc
Calgary, Alberta
Eva Liliana López, Guatemala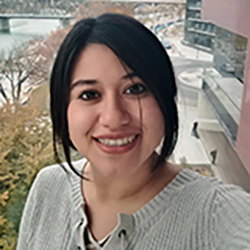 Emerging Leaders in the Americas Program Awardee
My research exchange experience was excellent. The University of Saskatchewan has afforded me opportunities to learn about life and culture in the Canadian prairies as well as new methods in nutrition that will help me to work with food insecure people in Guatemala. The advanced facilities gave me access to new training, tools and technologies to improve my skills, including English communication.
My home country is considered one of the most dangerous in which to be a woman. In Canada, I felt safe both on and off-campus. I now understand how a non-threatening environment improves my sense of well-being and gives me space for creative thinking.
The university's International Student Centre was instrumental for me. It provided activities that helped me learn about local culture and helped me feel part of both the country and the university itself.
I have grown personally from the chance to travel to another country alone and to live independently while conducting my research. I have met people from all over the world and have made many new friends.
University of Saskatchewan
Nutrition Sciences, BSc
Saskatoon, Saskatchewan
Canada-CARICOM Faculty Leadership Program Awardee
During my exchange, I was based at the Hospital for Sick Children under the supervision of University of Toronto faculty. I collaborated with my supervisor on several research projects during the period and gained tremendously from the exposure. My time in Canada also allowed me to broaden and solidify collaborations with other researchers with similar interests. I was able to travel to Ethiopia to meet with them, and together we wrote a successful grant proposal. I learned new skills and enhanced my professional development by attending workshops, seminars and lectures both at Sick Kids and the University of Toronto. I thoroughly enjoyed the rich tapestry of life in Toronto; the museums, restaurants, parks, recreational activities and nightlife, and I survived the famous Canadian winter! Thanks to the Canada-CARICOM Faculty Leadership Program for this wonderful opportunity.
University of Toronto
Toronto, Ontario
Aliy King, Trinidad and Tobago
Canada-CARICOM Skills Training for the Green Economy Scholarships Awardee
My exchange in Canada was unique and will be unforgettable thanks to the support and guidance of my professors and the staff on campus. The level of engagement received from locals and travellers alike was unique and appreciated. The infrastructure of the country was magnificent.
Mohawk College
Hamilton, Ontario
Asia-Pacific
Study in Canada Scholarships Awardee
The most important thing for me was the hospitality and support from my professor. The environment was so inclusive that I never felt that I was away from home. Furthermore, the ocean, snow and the appealing beauty of British Columbia remains on my mind. The research and interaction among the students around the world, and the Christmas and New Year celebrations with people of diverse cultures was a uniquely wonderful experience. The learning opportunity, trainings and continuous guidance from my professor and the university was unforgettable. After returning to Nepal, I have started my career in the climate and energy efficiency sector by founding a start-up company. At present, I am the Technical Director of that company. I want to thank my professor, SFU and the Canadian government for this opportunity which gave me the strength and confidence to take such a challenging role.
Simon Fraser University
British Columbia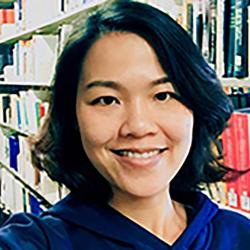 Canada-ASEAN Scholarships and Educational Exchanges for Development Awardee
I would like to take this opportunity to express my gratitude for being a Canada-ASEAN Scholarships and Educational Exchanges for Development (SEED) recipient. The reputable teachers, world-class facilities and multicultural society of UdeM make it a wonderful institution for study and research. I have gained a lot of hands-on experience and advanced knowledge in veterinary practice that will help me reach new heights in my career. I will bring the knowledge and techniques I have learned back to my country and transfer them to my colleagues. I strongly believe that we can make a difference and improve our veterinary practice in Vietnam.
University of Montreal
Animal Sciences and Veterinary Sciences, PhD
Montreal, Quebec
Raymond Wong Kok Hoe, Malaysia
Canada-ASEAN Scholarships and Educational Exchanges for Development Awardee
Words cannot express how thankful I am to have been selected as a recipient of the Canada-ASEAN Scholarships and Educational Exchanges for Development (SEED) program. I feel fortunate to have the chance to meet and work with world-class researchers. It was an absolutely amazing experience to conduct my research internship here, and it was a big step forward for my research in the Laboratory for Acoustics and Vibration Analysis (LAVA) at the École Polytechnique of Montreal. This program not only enriched my learning experience, but also enhanced the connection between my home and the host university. The bilingualism in Canada gave me the chance to learn French. I will never forget the fascinating cities, convenient public transport, impressive Fall and Winter scenery, as well as the helpful people here. I would like to extend my sincere gratitude to the SEED program, offered by the Government of Canada.
Montreal Polytechnic
Applied Sciences, Technology and Engineering, PhD
Montreal, Quebec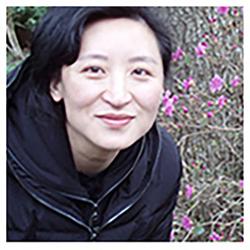 China Scholars Exchange Program Awardee
I loved Victoria from the beginning of my stay in Canada. Victoria is the oldest city in western Canada, and has the oldest Chinatown in North America. Heritage is alive and well in Victoria! The Law School of the University of Victoria (UVIC) is widely acknowledged as one of Canada's finest law schools, which has an outstanding faculty, a stimulating intellectual environment, and a strong commitment to social justice at home and abroad. UVIC's Law School is a leader in the interdisciplinary study of law and offers educational excellence in a supportive environment that warmly engaged me in the academic life. On the 2012 National Day of Canada I was in the lawn before the Legislative Building and was a part of the living-flag of Canada. I was so excited. My place in Victoria was close to a recreation center and I also attended a lot of activities. I am sure that my experience at UVIC Law School will strongly enhance my ability in my later research and my overall life.
University of Victoria
Law, visiting scholar
British Columbia
Europe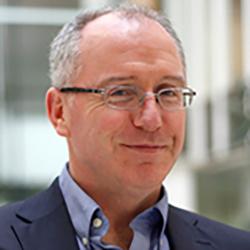 Flaherty Visiting Professorship
Travelling to Canada as a James M. Flaherty Visiting Professor enabled me to meet and present at academic meetings in Ottawa, Toronto, and Vancouver. I established academic collaborations for undergraduate research placements and postgraduate training in academic family medicine. Without the Flaherty Professorship, I would not have been able to establish collaborations at this scale. This is the first step in establishing an international network for recruiting, training, and retraining family physicians in academic medicine.
University of Toronto and University of British Columbia
Visiting Professor in Family Medicine