A quality education in Canada
When you study in Canada as an international student, you're investing in your future.
Quality assurance and standards
In Canada, provincial and territorial governments are responsible for education. They follow standards to ensure high quality public education across the country.
Not all colleges and universities can host international students. Provincial and territorial governments only allow schools to become a designated learning institution if they meet certain standards.
Canada is a top-performing OECD country in reading literacy, maths and sciences.

OECD, 2020
Canada is the 4th most popular destination for English language learners and 2nd for French language studies.

Languages Canada, 2021
Globally recognized qualifications
Canada is globally renowned for its education system. Your education in Canada can lead to international opportunities. Want to know if your qualifications will be recognized in Canada or abroad? You can learn about qualifications recognition from the Canadian Information Centre for International Credentials.
International employers recently ranked Canada's education system in the top 10 of the Global Employability Rankings (Times Higher Education, 2021).
World-class elementary and high school studies
Studying elementary or high school in Canada could open a world of possibilities for you or your child. Over 95% of Canadians choose public school education for their children. All public schools in Canada are publicly funded and employ only government certified teachers. Canadian high school graduation diplomas are internationally recognized.
Leading colleges and universities
Colleges and universities in Canada have strong reputations. Institutions are responsible for the quality and continuous improvement of their programs.
Professional bodies review certain professional programs to ensure they meet the needs of the field, such as nursing, architecture and engineering. Learn more about professional programs accreditation from Universities Canada.
46% of college and university graduates in 2015 participated in hands-on learning, such as co-op placements, internships, practicums or clinical placements (Statistics Canada, 2018).
Strong research opportunities
Want to make a groundbreaking research discovery? Canadian colleges and universities are home to world-class research labs and facilities. You'll also get to learn from internationally-renowned professors.
196 of the world's most highly cited researchers are from Canada. This means Canada ranks as the 6th top country with the most highly cited researchers (Clarivate, 2021).
In-demand language studies
Canada is a popular destination for English and French language schools. You'll find high-quality language programs since many public and private language schools must follow Languages Canada's quality assurance framework.
International students choose language studies to experience Canadian culture and improve their language skills. Many students take language courses to help prepare to enter a Canadian university or college program afterward.
Learn more
Keep exploring
Learn about the education system in Canada from elementary schools to colleges and universities.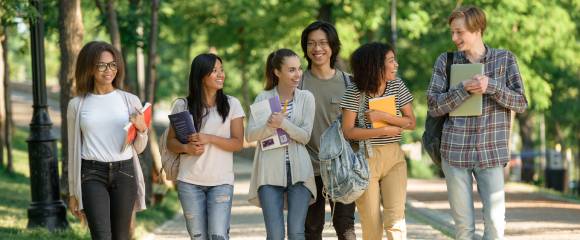 Discover the many reasons why international students choose to study in Canada.
Learn about how to get your academic credentials and qualifications assessed.